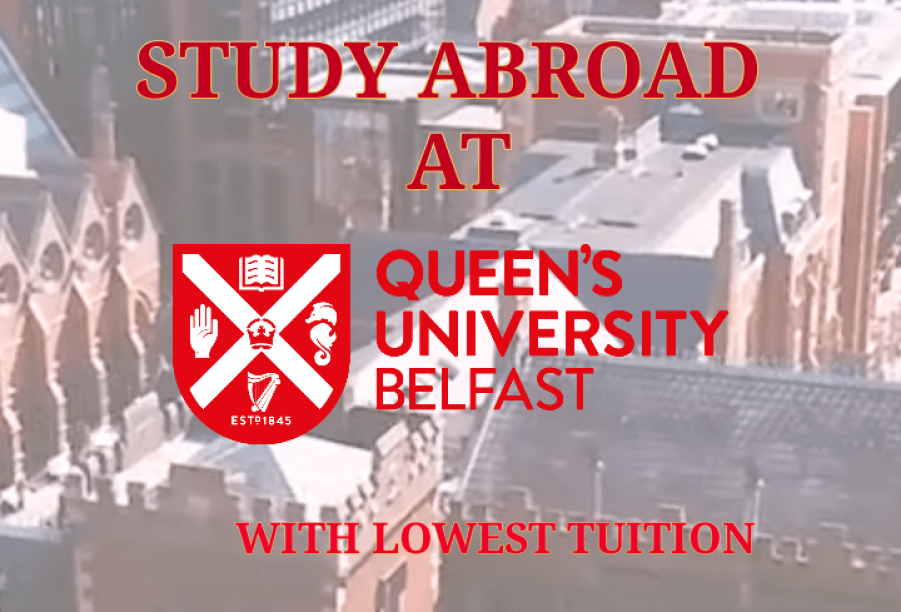 Queen's University is one of the most popular business schools in the UK, providing students with a series of world-class courses.
High quality teaching and Russell's group membership make Queen's University a perfect choice for taking the next step to support career progression.
Queen's College Belfast was Founded in 1845, and became an independent university in 1908.

One of the oldest university in UK and Ireland, Queen's is a based leafy neighbourhood in Northern Ireland's capital city.
Why Study at Queen's University?
BUSINESS AND ECONOMICS STUDY AT QUEEN'S UNIVERSITY ARE RANKED IN THE TOP 200 IN THE WORLD(Times Higher Education World University Rankings 2021)
BELFAST – TOP 100 DIGITAL ECONOMIES OF THE FUTURE
RANKED 6TH IN UK FOR ACCOUNTING AND FINANCE STUDY
RANKED IN TOP 140 IN THE WORLD FOR GRADUATE PROSPECTS
LOWEST STUDENT COST OF LIVING IN THE UK
From the exterior, Queen's ancient campus is beautiful; however, you should visit it on the inside. The Graduate School, your home for postgraduate study, exemplifies the university's dedication to providing a cutting-edge learning environment.
Big ideas, difficult debate, and interdisciplinary collaboration abound in the sophisticated, hi-tech conference rooms, study areas, and social spaces here.
Queen's University has a Global reputation of excellence as a member of Russel group of research-intensive universities.
A postgraduate degree from Queen's University is a badge of honor, signaling that you have studied at the top of your subject.You will apply what you learn here throughout your career.
Join Our Social Channels if You haven't Joined Already
Stay in touch and follow us on our social media platforms to receive the most recent updates on new opportunities.
Experts' cutting-edge research inspires Queen's great teaching, resulting in a more relevant and valuable degree for you.

A GLOBAL AND INCLUSIVE UNIVERSITY COMMUNITY

Queen's University is the world's 25th most international university, attracting worldwide talent to Belfast.
Having employees and students from over 80 nations on campus contributes to a diverse and lively environment. They will be joining an institution dedicated to attracting, keeping, and developing the best global talent in a setting that allows them to reach their full potential.
Queen's University is a leader in gender equality and diversity and is an innovative, inviting, and inclusive place to work and study. We are one of the most successful universities in the UK in the Athena SWAN project, which promotes gender equality and professional advancement. We now have two gold, eight silver, and five bronze departmental awards, as well as a departmental award for innovation.
Queen's University has made considerable investments in both discipline-specific and interdisciplinary research in order to foster an environment where our academics can address the global challenges that we all confront.
Every year, more than 800 Queen's students go outside of Northern Ireland to study or acquire work experience.
A World Renounced University
EQUIS accreditation means that Queen's Management School meets worldwide standards, and our rankings aren't bad either:
Accounting and Finance graduate prospects are ranked 5th in the UK (Times and Sunday Times Good University Guide 2021).
Business, Management, and Marketing were ranked 5th in the UK for satisfaction with feedback (Guardian University Guide 2020).
Ranks 6th in the United Kingdom for business and management research (Complete University Guide 2021).
Graduate prospects ranked in the top 140 in the world (QS Graduate Employability Rankings, 2020).
BEGIN YOUR JOURNEY TO QUEEN'S TODAY
1. Register your interest and leave your details using the registration form through the link below to receive more information.
Contact Queen's directly by emailing: askahss@qub.ac.uk
To begin your application, click below to apply
You can also Apply For Scholarship Funded by a China University here:
Apply for Bright Future Scholarship here: