There are plenty of jobs out there that let you work from home, but these ten options are particularly great if you're a student looking to make some extra cash while still getting your schoolwork done. Whether you're planning on graduating in the next year or the next decade, we've found careers that offer flexible schedules and good pay, along with a few perks to sweeten the deal.
Check out this list of jobs for students who want to work from home!
Paid surveys
Paid surveys are a quick and easy way to make some extra cash online. Companies pay you money to record your opinions on their products, or to test out new marketing campaigns. The great thing about paid surveys is that they take up very little of your time but can still help you make some pretty good money. My wife has been doing paid surveys for years and made $200+ in her first month of college alone.
Virtual Assistants
If you're a student looking for work from home jobs, consider becoming a virtual assistant. Companies can't hire you as an employee (legally) but that doesn't mean they can't utilize your skills and knowledge as part of their operation.
Virtual assistants are hired to take care of everything from scheduling appointments to organizing files—meaning that if you have previous customer service experience or know how to run social media accounts, there are plenty of opportunities available to you. Start applying for positions on Upwork, where most companies are hiring remote workers.
In addition to payment by salary, many VAs also receive a per-task rate—so once you build up your resume and reputation, getting paid per project could be within reach!
Join Our Social Channels if You haven't Joined Already
Stay in touch and follow us on our social media platforms to receive the most recent updates on new opportunities.
Transcriptionist
This is one of my favorite work from home jobs for students and that's because it doesn't require any specialized skills or training.
To become a transcriptionist, all you need is a computer with Internet access, a foot pedal (if possible), a good pair of headphones, and transcription software such as Express Scribe.
You can then submit your finished files via e-mail. The average rate for transcribing an audio file is $20-$25 per hour. To see some job listings, check out TranscribeMe, Bizrate, or Indeed.
Read also: 7 Ways to make money online as a Student
Online Tutor
Though high school and college students generally don't make as much money as workers with more experience, if you can build a solid client base while in school, you can start making serious cash when you graduate.
Sites like Chegg Tutor or TutorVista allow students to set their own hours and earn upwards of $12 an hour helping peers get through tough courses and standardized tests. If that sounds like a job description you want to read, work on building your brand by promoting yourself through local clubs or organizations at your school.
An added bonus is that once you start helping other students in your free time while in school, they may end up hiring you full-time after graduation! Plus, these companies may even be willing to pay for an internship as well.
Copywriter
Though it sounds like something out of an episode of Mad Men, working as a copywriter doesn't involve pantsuits and cigars. Instead, it means translating a company's vision into words that resonate with consumers. If you enjoy analyzing trends, being creative and writing catchy content, then you may be cut out for a career as a copywriter.
The majority of copywriters start out in entry-level positions—and even those jobs pay pretty well ($47k/year on average). However, to break into more senior roles (which often come with bigger salaries), you'll want to gain experience by working on other people's projects for free or interning at local ad agencies.
Affiliate Marketer
In today's digital age, online advertising is a great way to supplement your income. If you have experience marketing, why not turn that knowledge into cash by working as an affiliate marketer? Even if you don't have direct sales experience, there are plenty of companies looking for people to promote their products on blogs or social media networks.
If you're passionate about a product or service, consider becoming an affiliate for it. You could earn extra money promoting things like music downloads, clothing or travel deals. As long as you find a company with products and services you believe in, there's likely an affiliate program that can help you earn money doing what you love.
E-Commerce Manager
If you're good with numbers and don't mind selling products, work from home as an e-commerce manager.
This means writing in-depth descriptions of merchandise, taking pictures or video of products and services, coming up with marketing materials (like banner ads), and helping to set up online shopping carts and payment gateways.
Become a virtual assistant: You can find remote jobs that allow you to answer emails and schedule appointments, make travel arrangements, or even run social media campaigns. Virtual assistants are often self-employed freelancers rather than actual employees, so they have more flexibility in setting their own hours.
Read also: How to make money online without paying anything
Remote Customer Service Representative
Remote customer service is one of those great work-from-home jobs for students because you don't need special skills to succeed. Instead, all that's needed is an attention to detail and a desire to help people. Companies like Appen, LiveOps, VIPdesk, and more hire remote customer service reps year round. These are relatively short contracts that can be done in your spare time or even while watching TV at night.
Freelance Writer
Freelance writing is a great way to make money from home, since you can easily set your own hours and control how much work you take on.
These jobs allow you to work from anywhere and pay well; many also offer additional perks like health insurance, paid time off, and retirement plans.
There are more than half a million freelance writers in America—many of whom love their independence—and several websites will connect aspiring writers with employers looking for full-time, part-time, or temporary help. Plus, there's even an opportunity here if English isn't your first language: online content providers (like Nest) often hire native speakers in other countries to produce web content in local languages.
You may also like: 10 Proven ways to make Money from Social Media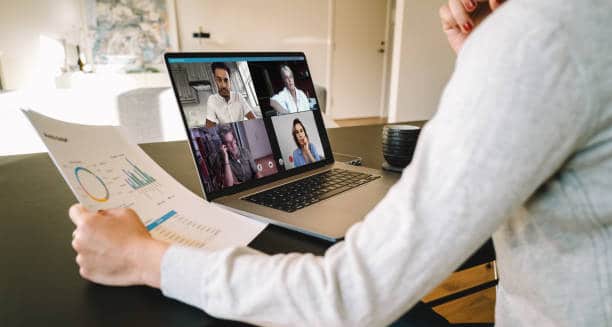 Data Entry Clerk
Data entry clerks work from home transferring data from a variety of sources such as spreadsheets, databases and digital images into a specified format. Data entry jobs are some of the most common work-at-home jobs for students because they don't require any specialized skills.
The pay is competitive in relation to other entry-level positions and there are plenty of opportunities for advancement. A degree in computer science can be beneficial for landing better paying jobs with more responsibilities.