For your elementary and intermediate campuses, Education Galaxy offers a wide range of incredibly effective solutions aimed at improving the performance of all students at each grade level and tier.
What is the purpose of Education Galaxy?

Education Galaxy is an online learning platform that uses a mix of games and exercises to keep students engaged in their studies. It can be utilized on a variety of devices because it is online-based, making it a perfect approach to give digital education to all schools.
This technology is designed to assist K-8 pupils learn better, but there is also Liftoff Adaptive Intervention, a tool that can help difficult students. Through evaluation, this determines a student's level and then assists them in working toward a progress objective.
For elementary and intermediate campuses, Education Galaxy offers a wide range of incredibly effective solutions aimed at improving the performance of all students at each grade level and tier.
Education Galaxy also serves as an evaluation tool, offering questions and answers to help students prepare for state examinations. This Tier 1 product strives to meet the requirements of the state you're in by providing a variety of programs.
This covers everything from math and science to language arts and reading. The adoption of a game-based rewards system has been shown to improve student grades by increasing their interest in studying.
Read also: Advantages of Online Education
The learner receives rapid feedback on their responses, allowing them to learn from their mistakes; however, more on that in the next section.
Join Our Social Channels if You haven't Joined Already
Stay in touch and follow us on our social media platforms to receive the most recent updates on new opportunities.
---
What is the process of using Education Galaxy?

Teachers can sign up for Education Galaxy for free and immediately begin utilizing it. There are paid options, but for the essentials, it's simple to get started. Thousands of questions are available to be answered online or downloaded for use in worksheets. It's the internet format that's the most advantageous.
Teachers can select a collection of questions by searching for specific standards or by subject because everything is done on a computer. Students can then proceed to the multiple-choice questions. They'll be offered access to a game if they get it properly. If they get it wrong, they're given a video tutorial on how to get to the correct answer right away.
Teachers can assess students' development by looking at how they performed on tests and using that information to assign additional work or future assessments. The chart-based structure makes it simple to observe how work is progressing over time at a glance.
You may also like to read about Hunters Education : Click Here For More
---

What are the best features of Education Galaxy and how it works ?

Education Galaxy games are entertaining and interesting, making them a much-desired reward for pupils. But, most importantly, they are brief and time-limited, serving merely as a reward rather than a distraction.
To assist students recognize how they're going, they're awarded points and awards. Individual study plans can be created by teachers to ensure that students grow in the areas where they need to improve.
There are more than 10,000 questions to choose from. Each one has its own video assistance so that trainees can be taught mastery and learn from their mistakes if they get it wrong.
Questions are available in both English and Spanish, allowing for multilingual and cross-linguistic learning.
The Assessment Builder tool is quite helpful in making the most of this system. Teachers can develop assessments that are tailored to specific themes taught in class and provide a test bank for each area of the standard. You could, for example, develop a semester-ending exam that spans numerous disciplines.
The space alien concept is entertaining and consistent throughout the platform, making it easy to understand and utilize for kids. This game has a lot to keep kids coming back for more, from alien rating cards and customized avatars to upgradeable blasters and group tournaments.
Read also Quantum Units Education: Click Here
---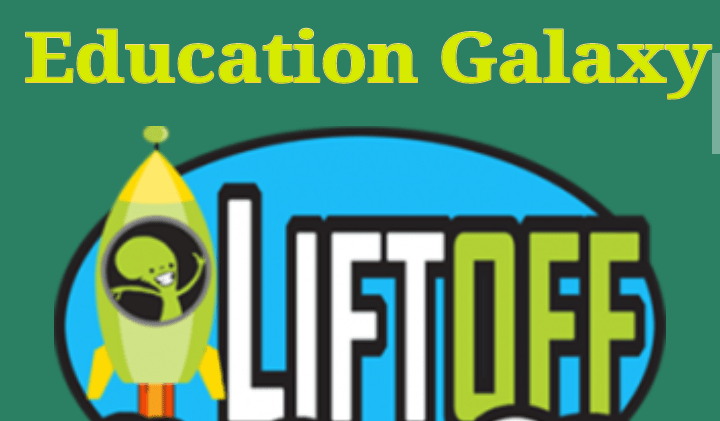 What is Education Galaxy Liftoff Program ?
Liftoff is a Math and Reading supplemental intervention from Education Galaxy that delivers practice and instruction in a fun learning environment.
Liftoff helps students regain lost learning by using a diagnostics assessment to determine their learning level, after which they can work on their own personalised learning plan.
Liftoff is a program that helps students in elementary and middle schools (grades K-8).
Liftoff is a program for at-risk and disadvantaged students. Liftoff will instill confidence in your pupils while also providing the support and guidance they require to succeed.
Students first complete an adaptive diagnostic to determine their ability level in a range of areas. Students study at their level and swiftly progress to more challenging ideas once their level is determined.
What is the price of Education Galaxy?

Education Galaxy's pricing is divided into three categories: Schools, Parents, and Teachers.
For the Schools plan, you'll need to fill out a brief online form and submit it to acquire a quote tailored to your institution.
Pricing for the Parents plan is straightforward, with a monthly fee of $7.50.
Basic price for the Teachers plan is free, but you are limited to either 30 students for all subjects or 150 students for one subject. For $9 per month, you can get access to all of the games, as well as more reports and diagnostics, as well as student access to personalized paths, the test and alignment builder, and more rockets to collect, as well as student access to "My Skill Practice" .
---

Click here to choose a program or check the complete pricing list: